Halfway through the year and hanging out for a holiday? According to TorchMedia's recent En Route to Engage Study, 69% of commuters said that Travel and Tourism is the category best suited to advertising on Public Transport. TorchMedia's clients are taking advantage context and seasonality to influence this highly receptive audience on their daily commute!
Destination: Inspiration
With 81% of Torch Transit commuters stating that they like to travel to new places¹ and 49% saying they prefer to travel within Australia, domestic tourism bodies are taking advantage of commuters receptiveness to entice them interstate.
Tourism Tasmania is embracing the chill, inviting commuters across Sydney Light Rail and Sydney Trains to Come Down for Air, for The Off Season. Offering cold water plunges, forays into the depths at Dark Mofo and a seafood-lover's paradise at the Scallop Festival, Tourism Tasmania urges the audience to look for something different out of their holiday destination.
Visit Victoria has gone bright and bold on the Sydney Light Rail this winter, telling Sydneysiders to "Get Set to Melbourne!" Speaking to the 58% of Sydney transit commuters who enjoy going to live events¹, the campaign is bursting with upcoming cultural events, from galleries to theatre to sports and more!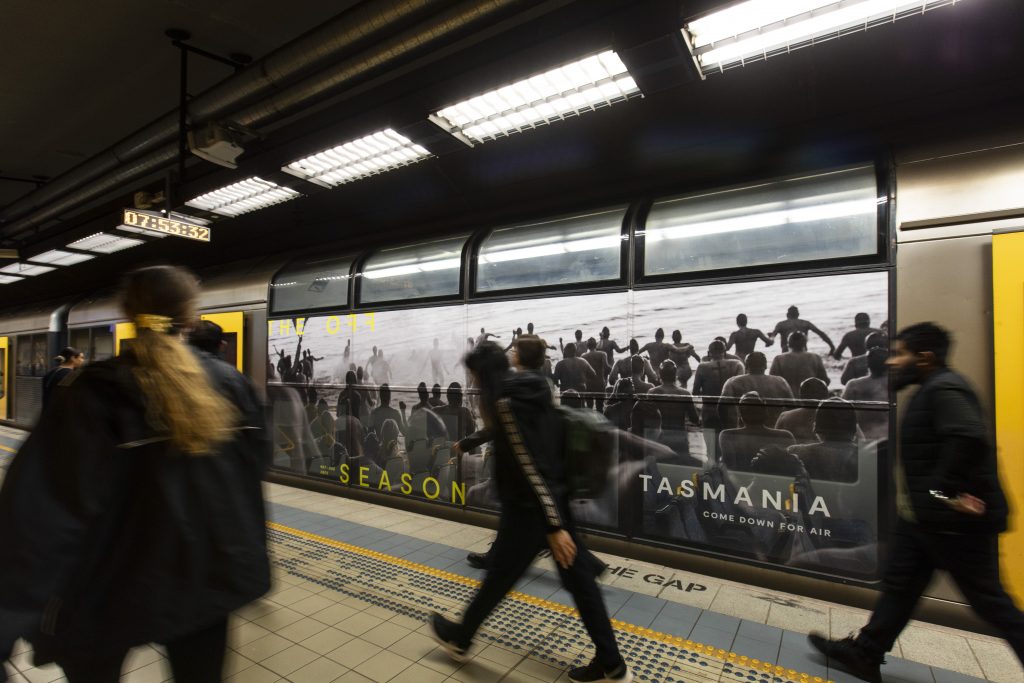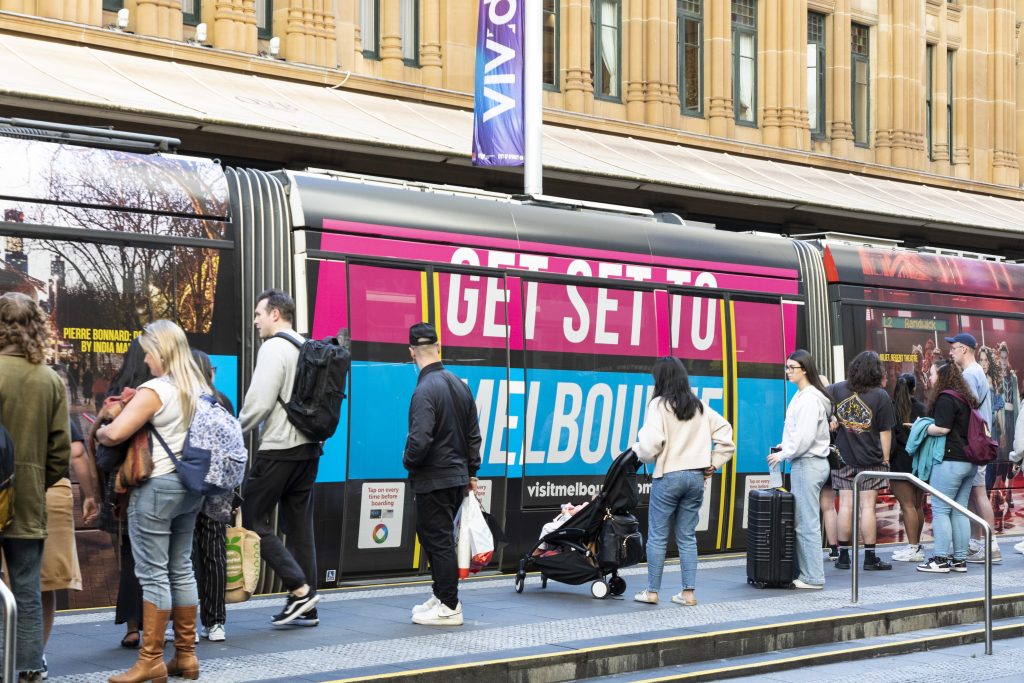 But it's not all about Australia! Plenty of transit commuters are international jetsetters – with 45% intending to fly internationally in the next year¹.
Tourism New Zealand also embraced the winter blues. As the most popular international destination for Aussie travellers (ABS 2008-2018), TNZ focused on their world class ski offerings. TNZ's Triple Carriage Wrap covered the Sydney Light Rail in snow, making for a seasonally relevant campaign that made skiing in New Zealand seem just a stop away!
Meanwhile, Cook Islands Tourism is inspiring a tropical escape. Cook Islands creative featured a sunny, tropical landscape, making the most of Sydney's cold wintery backdrop as contrast. Their Sydney Light Rail Triple Carriage wrap showcases the power of seasonality enticing commuters to escape to a slice of paradise.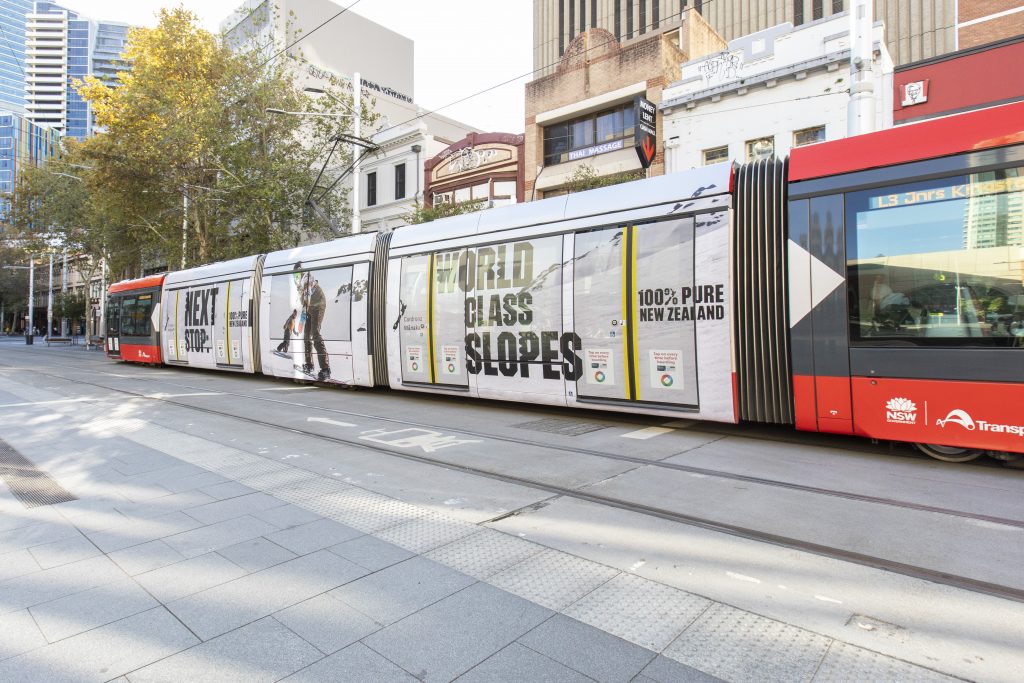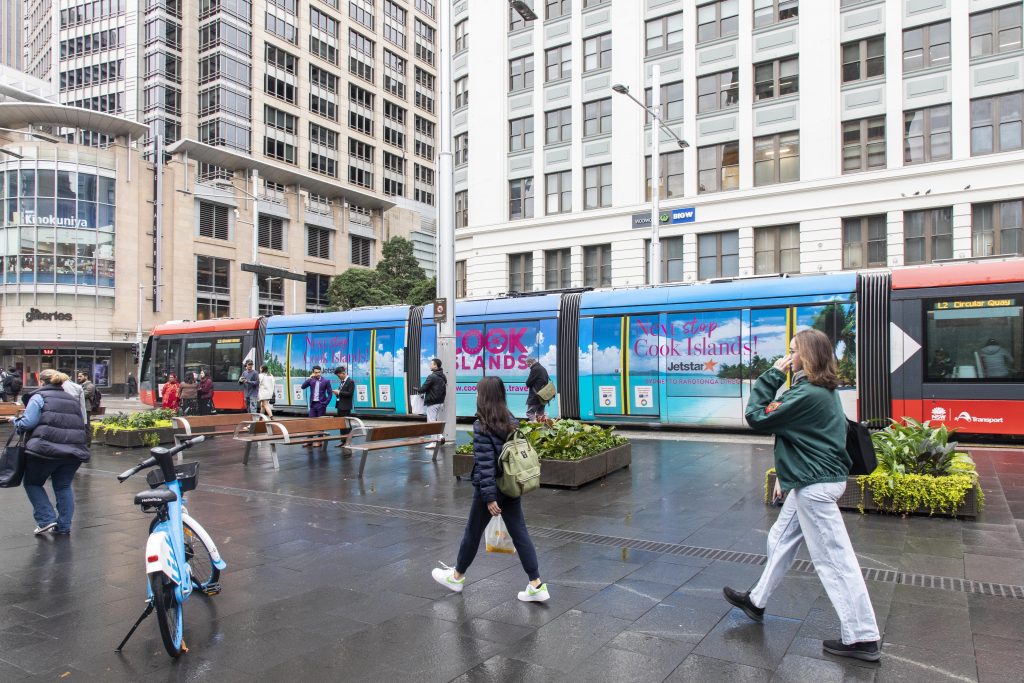 Come Sail Away
After the challenging years of the pandemic, cruising is back! From family fun to Alaskan adventures, there is a cruise holiday to meet the needs of any traveller. Torch Transit commuters are 60% more likely than the average Australian to take a cruise for their next holiday¹, making Transit Media the perfect place to inspire travel plans.
Holland America Line made a splash on light rail, trains and ferries, inviting commuters to have the time of their life cruising through Alaska, Europe or New Zealand. The campaign featured placements on Sydney Ferries, connecting Holland America Line with an audience made up of 40% high income earners².
Where Holland America speaks to adventure, Carnival Cruises is reeling in the fun! Jumping on board TorchMedia's new Sydney Metro Digital network, Carnival Cruises is targeting affluent families in Sydney's Northwest and Hills district on their commute.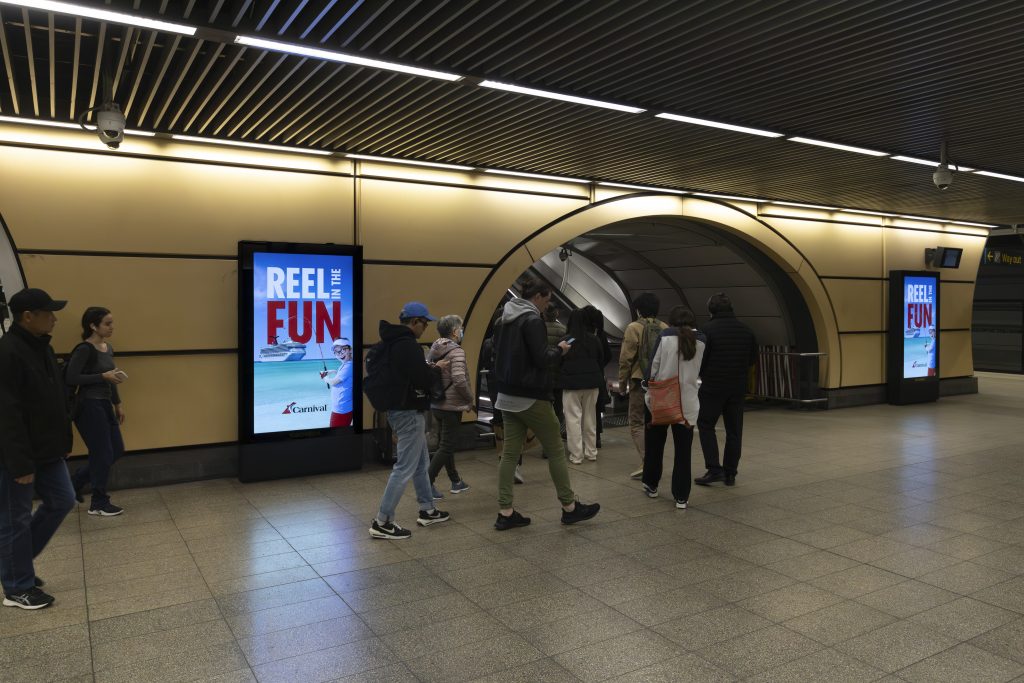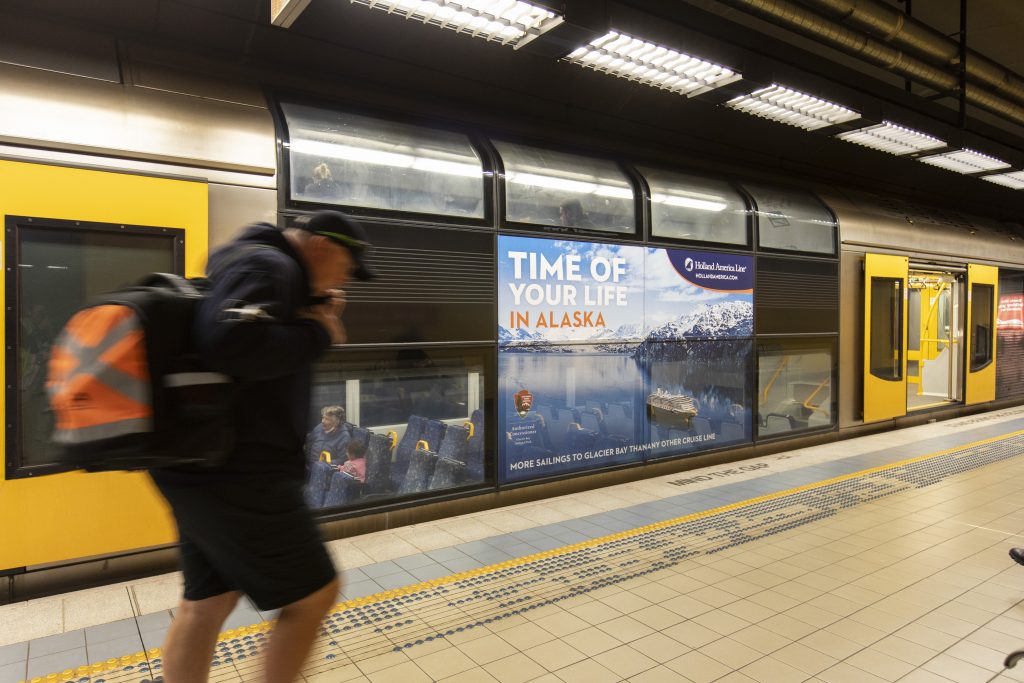 Time to book?
Caught the travel bug? Don't wait, it's time to book! With holidays to suit every style, Flight Centre connected with a diverse range of consumers across Sydney Ferries, Sydney Light Rail and Sydney Metro with a mass-reaching travel campaign. Flight Centre took advantage of long dwell times on board Sydney Ferries to encourage response directly on the journey. Torch Transit commuters are more than twice as likely to book their next holiday through an online travel site or travel agent¹, meaning Flight Centre's Transit Media campaign was targeted and relevant.
Who books their travel directly through the airline? 29% of Torch Transit commuters do!¹ Viet Jet Airlines launched their brand-new flights with a Triple Carriage Wrap on the Sydney Light Rail. An exciting introduction for the budget-conscious, Viet Jet cut through Sydney's CBD with a bold red and yellow campaign, appealing to outdoor audiences feeling the pressures of inflation and rising cost of living. Offering some much-needed budgetary relief when travel planning, Viet Jet Air maximised consumer knowledge of their brand using Transit Media.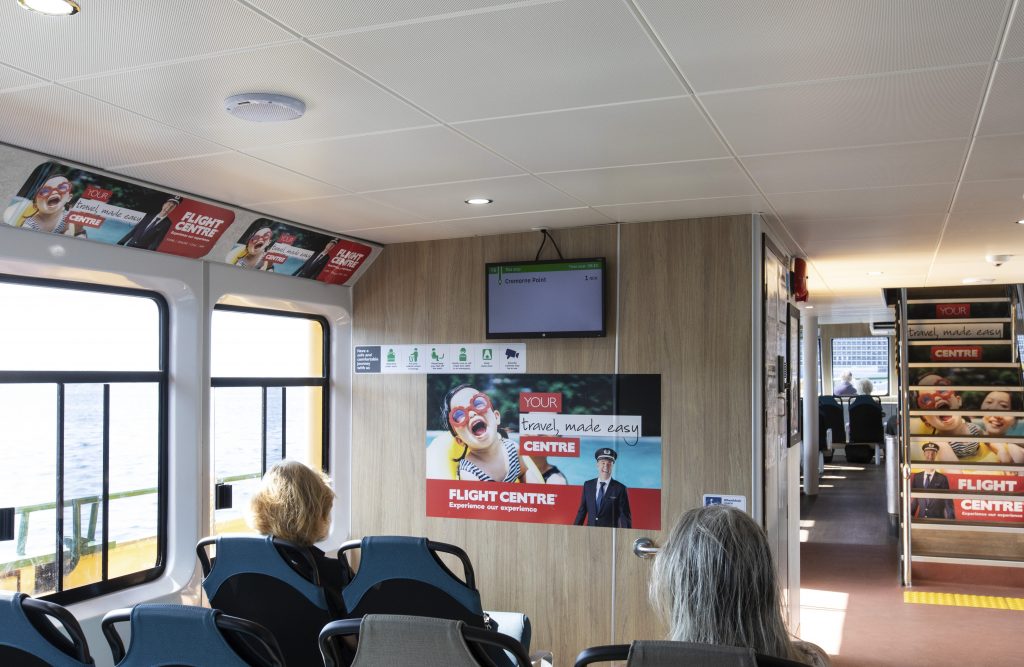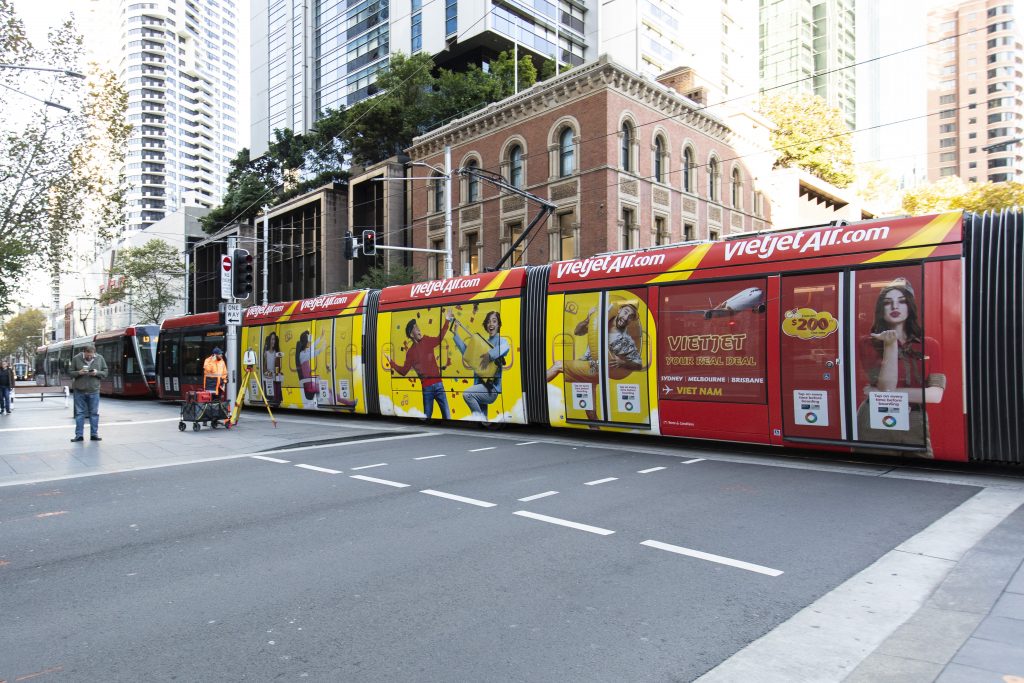 The travel category continues to boom post pandemic and Transit Media is the ideal location to advertise inspiring destinations and the ways to book your next holiday. Our clients are taking advantage of context and seasonality to maximise influence on out-of-home audiences keen to escape the daily grind. 59% of Torch Transit commuters influence the decision making/purchases of travel and holidays within their households.
Want to join these travel campaigns reaching the 59% of Torch Transit commuters who influence travel planning decisions in their households¹? Get on board – contact your Account Manager today!
Sources:
¹Nielsen Consumer and Media View, Survey 10, 2022
²TorchMedia & GfK, En Route to Engage, 2022