Welcome to our June Best of the Month selection: a monthly round up of our favourite recent campaigns. We love to celebrate our clients who are making great transit creative, designed perfectly for the space, with bold colours and eye-catching imagery!
---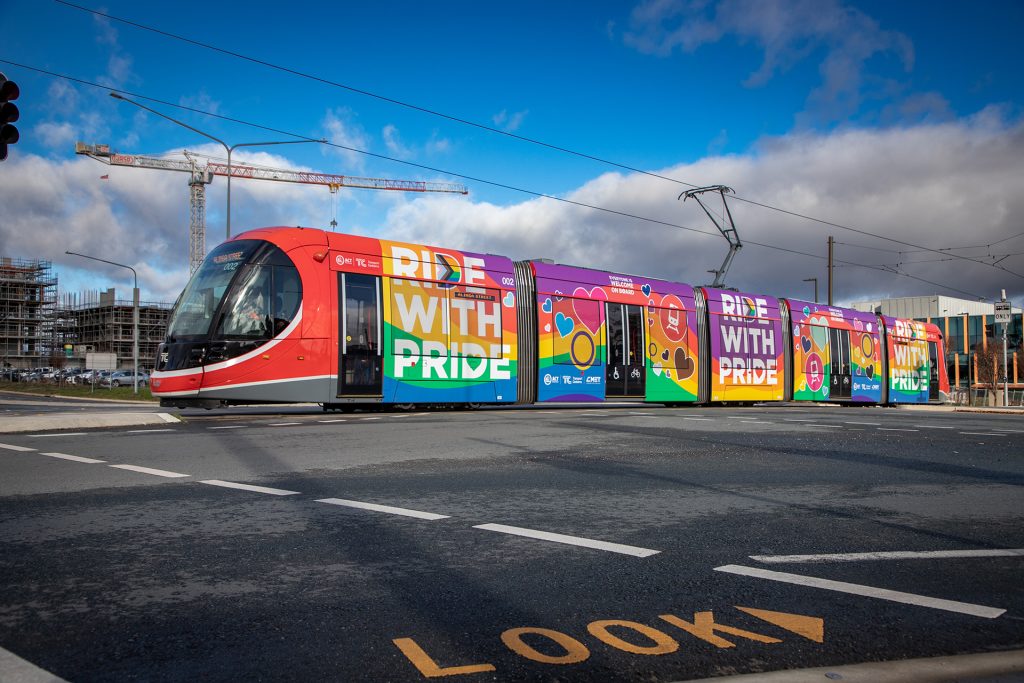 Ride with Pride
Welcoming everyone on board this Pride Month, Canberra Metro, in partnership with Transport Canberra and TorchMedia, have wrapped the Canberra Light Rail with symbols of rainbows and love. Capitalising on the 'wow factor' of the Full Wrap, the Ride With Pride campaign stands together with the LGBTQIA+ community as a celebration of diversity and representation.
Why we love it: The bright creative makes brilliant use of the high-impact wrap format while bringing a message of pride, love and acceptance to Canberra.
---
Pixar – Elemental
Format: Sydney Light Rail Triple Carriage Wrap, Sydney Metro Portraits
Now in Cinemas! Pixar took us on a heartwarming journey of self-realisation as they advertise their new movie Elemental. Drumming up excitement through a Triple Carriage Wrap on Sydney Light Rail and Portraits at Sydney Metro Stations, Pixar was able to successfully target commuters in close proximity to cinemas in the CBD, South Eastern suburbs, Macquarie Park and Castle Hill.
Why we love it: The brightly coloured creative grabs attention and draws you into the world of Elemental – sparking excitement in time for school holidays!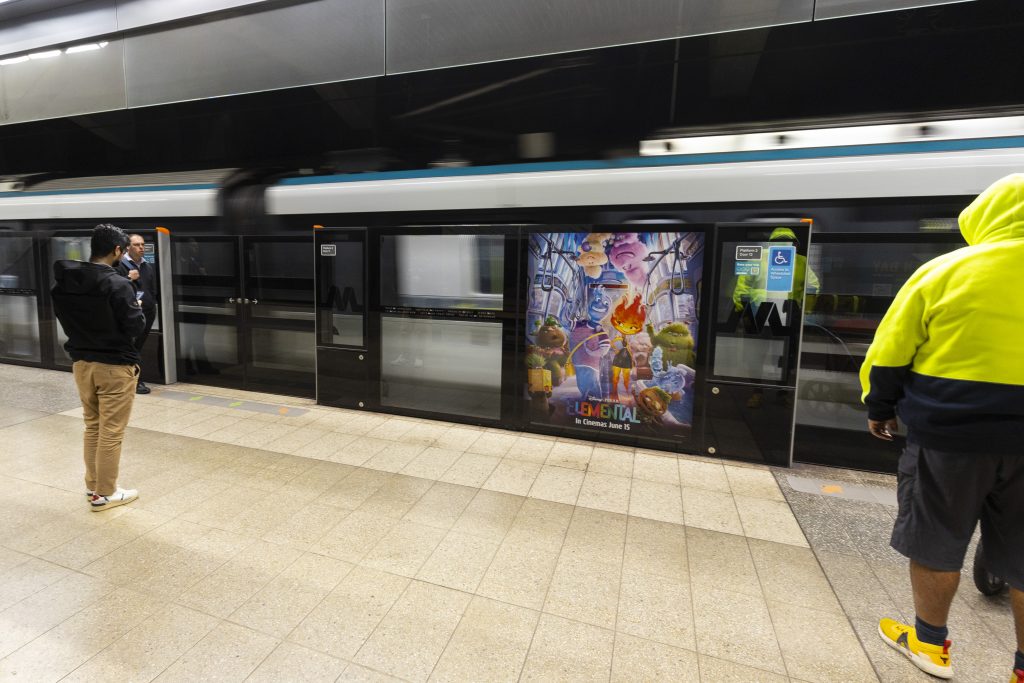 ---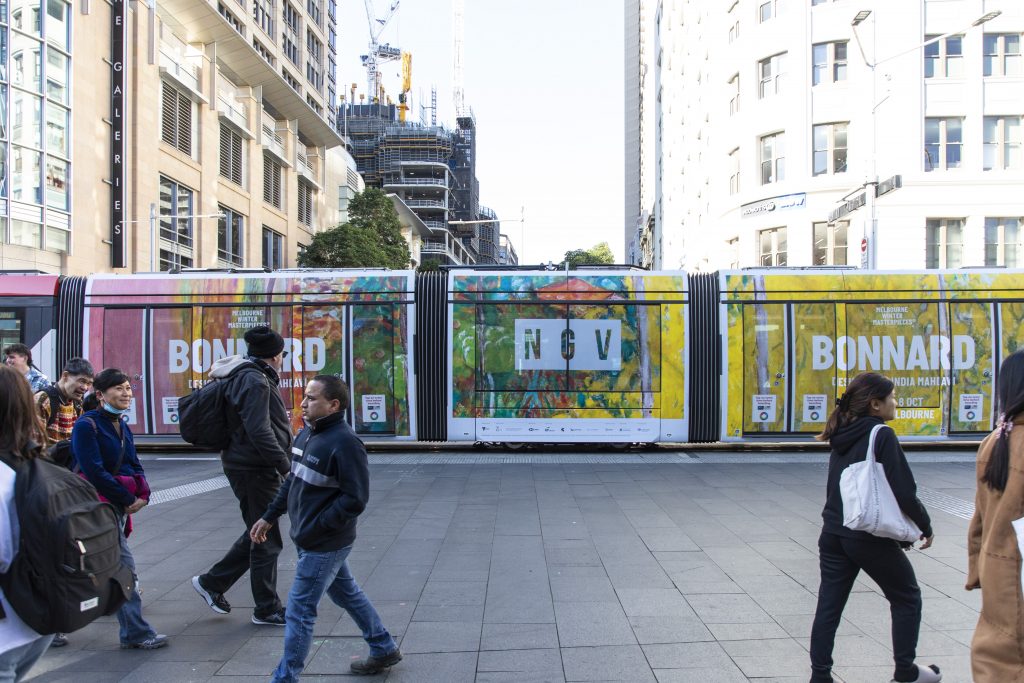 NGV – Bonnard
Format: Sydney Light Rail and Canberra Light Rail Triple Carriage Wraps
National Gallery of Victoria's Winter Masterpieces exhibition, Bonnard, presents the iridescent paintings of Pierre Bonnard within immersive scenography. Designed by India Mahdavi, this exhibition allows people to experience and celebrate Bonnard's masterpieces. As a media partner of the NGV, TorchMedia is proud to be bringing awareness of this stunning exhbition to the streets of Sydney and Canberra.
Why we love it: Transit Media takes the exhibition beyond the walls of the gallery – surprising and delighting commuters as the artfully wrapped trams travel around Sydney and Canberra!
---
Monday.com
Formats: Sydney Light Rail Megaside, Portraits and Interior Takeover
Monday.com used multiple formats on the Sydney Light Rail to create a contextually relevant campaign. Capturing audience attention using alternating bold colours, Monday.com matched their message to the medium with light hearted taglines such as 'Keeping thousands of Aussies companies on track… Just like this Light Rail'. Utilising the Interior Takeover, Monday.com was able to directly speak to their target market and promote the advantages of using their products.
Why we love it: Monday.com used an array of creatives, each having its own unique colour, to effectively communicate different relevant and humourous messages to their audience in Sydney.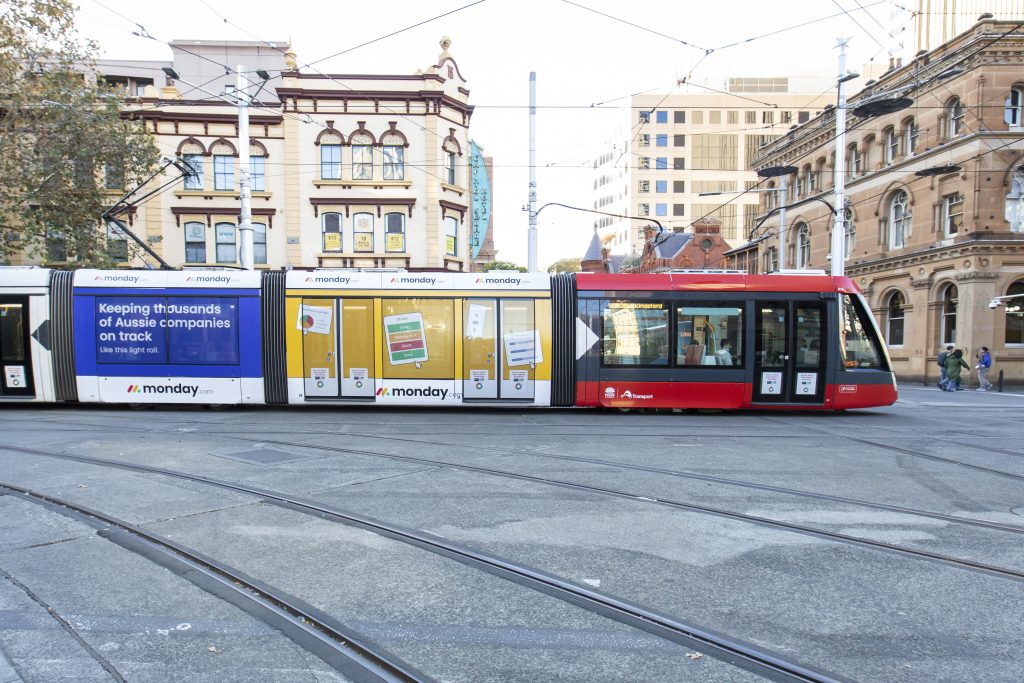 ---
The Lottery Office
Ready to win BIG? The Lottery Office is bringing international lotteries to commuters travelling on the Sydney Metro. The Lottery Office capitalised on the market first opportunity with a dynamic campaign across TorchMedia's new Sydney Metro Northwest Digital network. With creatives tailored to the timings of international lottery draws, the campaign delivered compelling messages to inspire commuters to dream about winning the lottery en route to work.
Why we love it: The Lottery Office took full advantage of the capabilities of the Sydney Metro Digital Network, using dynamic creative to show commuters up to date offers and chances to win!
---
Crime Stoppers – Illicit Drugs
Formats: Canberra Light Rail Portraits and Interior Takeover, Sydney Ferries and My Fast Ferries Vessel Takeovers
They'll never know it was you. Crime Stoppers has enlisted the help of Transit Media to promote their important 'Illicit Drugs' campaign with placements in high dwell areas. With the goal of building audience courage to report crimes, multiple creative messages were applied to relate to a broad audience and allow for an increase in consideration. The creative skillfully employed a pixelation effect to make people take a second glance, driving home that anyone can contribute important information anonymously.
Why we love it: The campaign provides an important PSA – showing different scenarios to increase commuter consideration and encourage people to think about the importance of reporting crimes.
---
---
Check out more of these great campaigns below and on our socials!